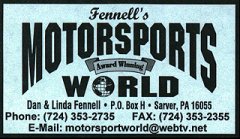 Online News by Linda Fennell
Rweb Note:
Linda Fennell is the Editor/Owner of Motorsports World Publication, an award-winning racing publication in the western Pennsylvania, eastern Ohio and northern West Virginia area. This publication, which is available at the majority of area tracks, features many photos, results, upcoming events, special stories, news from the pits, current weekly driver point standings and updates from all of the sanctioning bodies. Motorsports World is starting its 20th season this year. You may reach Linda by e-mail at motorsportworld@webtv.net to ask about subscription information or to send her your racing news. We are grateful to Linda for contributing columns to Racingweb.

Please refresh/reload this page in your browser to make sure that you are seeing the latest version of Linda's column. Enjoy.
---
Linda and Dan Fennell receive Bill Steinbach Media Award



We ran into Dan and Linda Fennell at the Clarion Mall Car Show and were pleased to learn that they received the Bill Steinbach Media Award at the Lernerville Speedway Awards Banquet on March 1, 2003. Linda was really happy about the award which came as a complete surprise to her. It is nice that the Fennells have received this recognition for their significant contribution to the auto racing community.

Here is a photo that we took of Dan and Linda holding the plaque that they received for the Bill Steinbach Media Award.



Chapter 5


(Sarver, PA January 21, 2003) Hi Race Fans. Lots to talk about so here goes. Dan & I attended the Tri City Speedway banquet recently. Although the Steelers were playing the Tennessee Titans, co-announcer Brian Spaid had his wife at home calling his cell phone with updates. The game was somewhat a distraction but there was much to celebrate at the banquet from the 2002 Racing Season at the Tri City Speedway. Rod George along with his family and crew celebrated his sprint title. Rod has 16 career wins at the track and now a championship sprint title. Rod's plans for 2003 are to cut back a little. He said, "This season was sure fun". George also is the track champion at the Lernerville Speedway and claimed the York Triathlon Sprint title.

Ed Lynch Jr.'s 15 victories at the track have tied him with his father with total number of wins. Lynch Jr. has 3 cars in his stable for 2003. All are currently being worked on. He plans a trip to Florida in February to run with the All Star Circuit of Champions Sprints. Also heading south will be Brent Matus. Matus has a new Gambler chassis and is looking forward to his visit to Volusia County Speedway. Daryl Stimeling of Lewistown, PA has teamed up with some folks back east. Stimeling will be racing closer to home in 2003. He will compete at the Clinton County and Port Royal Speedways. Stimeling who has been a big supporter of Ford power will be working with Chevy motors this season. Reports have been that Brian Ellenberger has gotten a new car and will be back running with the All Stars. Greg McCandless finished tenth in the Tri City sprint point standings. Greg will lighten up his car a bit and try to make it go faster.

In the modifieds track champion Josh Skarzenski plans on racing three nights each week this season. Josh runs a Bicknell chassis and races on Hoosier Tires. Dave Murdick has expanded his relationship with Armstrong Zoom Internet Cable and will represent his sponsor by racing Friday night at the Lernerville Speedway and Saturday's at the Mercer Raceway Park. Dave is putting together a 2003 Troyer chassis. Andy Priest and Ted & Cal Hall will continue together to race the DIRT Wheels Modified on Sunday nights at the Tri City Speedway. This year will also be a big test for Priest Motorsports as they will be running a new house car from Speed Palace out of Carncy, New Jersey on Saturday nights at Mercer Raceway Park along with selected DIRT and BRP tour races. Don Blackshear Racing Engines will power the cars. Andy intends to travel to the Hagerstown Speedway and the Charlotte's DIRT race in early spring.

Congratulations to Skip Moore on receiving the Most Improved Driver Award. Moore will be running his familiar #17M at the local tracks again this season. Carl Murdick is feeling better and is in Florida for the winter months. With these cold temps I wish I were in Florida too. Carl who started racing back in 1960 is looking forward to being back behind the wheel. He is awaiting his doctor's official release. Del Rougeux has recently picked up a new 2003 Bicknell car. Del had a great 2002 season winning his first feature and finishing fourth in the point standings at Tri City. He could be a force to reckon with in 2003. Brent Rhebergen scored eleven e-mod feature victories to earn his first career track championship ever. Brent has been racing for 17 years and has 23 career feature victories in the e-mod class. A new Bob Pierce chassis e-mod will be will be used this season. His cars owners are Bruce & Kathy Steadman. Congratulations to Kari Petrosky on her recent marriage. Kari and her hubby missed the banquet as they were on their honeymoon. Rumors were circulating that Kari will move into the big block modified class this season. Jim Frontz reported that his team would run Friday and Sunday nights with the same car as last year. Jim finished 10th in the e-mod point standings this past season. Bobby Whitling "the Seneca Slider" is putting together a new stock car for 2003. Whitling implied it would be able to run a most tracks. Bobby has 29 career stock car victories at Tri City Speedway. Darrell Bossard was celebrating his birthday at the banquet. The crowd all sang "Happy Birthday" to him. Darrell thanked the crowd and told them they should keep their day jobs. Gary Norman indicated he would race the same car from 2002 in 2003. Also the 2002 stock car champion Dave Ferringer said, "He would try it other year". Congratulations to Jason Johns on winning the Rookie of the Year award. Greg Wheeling represented Coors Light in presenting the Hard Charger monies at the banquet. Top driver was Ed Lynch Jr. who received a check for $500. Second went to Dave Murdick-$400 followed by Brent Rhebergen-$300, Rod George-$200 and Bobby Whitling-$100. Tri City announced that the track would remain a full DIRT Motorsports Member in 2003. They will possibility host two BRP Modified Tour Races and a non-sanctioned late model special. The tentative late model date is August 31st. Late Model fans are sure to mark their calendars for this race.

The Rev. Bill Waugh has invited everyone to attend a "Blessing of the Season" service at the Greensburg Church of the Brethren on Sunday, March 2 at 10:30 am. Rev. Bill has invited drivers, families, crew-members, track officials, sanctioning officials, media and fans to attend the service. Following the service, a meal will be provided for all. For reservations call 724- 832-6436 or e-mail at revbill87@aol.com. Rev. Bill also is a columnist for RPM Racing News.

At the Motordrome Banquet owner/promoter Red Miley provided several big screen TVs for the large crowd to enjoy the Steeler game while dinner was served. Their awards ceremony did not start until the game was over. The track champions honored were Garry Wiltrout-late models, Mike Bakalon-modifieds, Marion Reno, Jr.-pro-trucks, Robin Rimel-street stocks and Curtis Stewart, Jr. –chargers. The champions received Bulova watches from Bulova and Kolman Jewelers. Other awards were Most Improved to Tom Beck, Team Spirit Award to Neil Brown and Best Appearing Pit Crew-Bob Bentz. Rookie of the Year honors went to Ralph McBride-late models, Dave Manns-pro trucks, Jason Holder-street stocks and John Pribanich- modifieds. The McDonalds All-Star Race Team for 2002 was announced and the winners were Mark Cottone-late models, Eugene Ciferno-pro-trucks, Paul Urso-modifieds, Mark Blohm-street stocks and Bob Shipp-chargers. A new class called the American Flyer Four Cylinder Division will be added in 2003. Motordrome's season will begin with a practice session on Saturday, March 22nd with opening day Sunday, March 30th. The next two races will be held on Sundays with the racing action switching to Friday night on April 18th.

On Sunday, January 26, 2003 will be the annual Marion Center Swap & Shop at the Marion Center Volunteer Fire Department just off of RT. 119. Set-up for vendors will be a 7 am with the doors opening at 8 am. Tables or outside space is $10.00 each. For more information or vendor reservations call Chris Johnston at 724-397-8536.

West Virginia Motor Speedway and East Bay Raceway will team-up during the Winternationals this February. The feature winner of the February 8, 2003 X-treme DirtCar finale will be given a guaranteed provisional spot for the October 18-19, 2003 Racefest World Championship at West Virginia Motor Speedway. The favor will the be returned with a guaranteed spot for the Racefest World winner at the 2004 X-treme DirtCar season finale at East Bay Raceway.

Well that will do it for Chapter 5…..Already working on Chapter 6. Thanks for reading and e-mailing me with your thoughts. The cold weather is really getting me down.News and Notes to: motorsportworld@webtv.net. Linda Fennell



Back to Racingweb
---
Chapter 4


(Sarver, PA - January 13, 2003)...Welcome to the New Year. Dan and I recently attended the MACS Banquet at the Rustic Lodge in Indiana, PA. The Geesey family hosts a gala affair as they crowned Jack Pencil their 2002 champion. Pencil received a new Rocket chassis, King's Jewelers champion ruby and diamond ring, fan favorite $1,000 cash award, Em's Broidery Champions jacket as well as other gift certificates and monies that totaled $14,230. Pencil told the crowd many wonderful stories about each MACS event at the different tracks this season. 2002 was an enjoyable year and Pencil will defend his MACS title in 2003. Jack started his racing career 13 years ago and is a teacher by profession. His crew, mother, dad, and friends were on hand to help with his celebration.

Tim Hitt's car owners, Tim and Judy Logan, collected the awards for the #68 team. The Logans received a new GRT chassis along with gift certificates and cash in the amount of $5,075. Had a chance to speak with David Scott of Garland, PA. Scott tells us that he is currently working on a financial package that, if it all works out, his team will follow the MACS schedule. Scott said that if the financial deal doesn't work out, he would run Lernerville as much as possible especially when Pittsburgh and Challenger have specials on that weekend. Scott will continue to drive a Magnum Chassis powered by a Malcuit racing engine. Most all of the top ten drivers indicated they would be back racing for the MACS title this season. Congratulations to Chuck Harper on his Rookie of the Year award. Check received $1,500 in cash and a $1,000 gift certificate from Craiger Race Engines. Two-time MACS champion, Denny Chamberlain, acknowledged his sponsor, R.H. Armstrong. Denny and R.H. have been together for 20 years. Chamberlain drives a Mastersbilt chassis. Nineteen year old Doug Drown has a great future ahead of him. Drown competed in his first full year on the MACS Tour and is a very confident speaker. He promotes his sponsors very well and is the type of person a business would like to have representing them. Drown drives a Rocket chassis powered by a Malcuit engine. He was the Calico Coating Hard Charger. Mike Johnson was unable to attend the banquet. Mike is a wrestling coach and his team was in the playoffs. In talking with Jeff Geesey of the MACS Organization, he feels confident that a 20-date race schedule is forthcoming. He has been contacted by many track promoters and is currently working on getting these dates for print. The Lernerville Speedway date was announced as being Friday night, June 27th.

New for 2003 will be a MACS Reading Club. Kids 6-16 can participate with the goals of improving overall reading skills. There will be driver involvement including autographs and selected readings, and monthly prize drawings. Kids will have six opportunities to win the grand prize of a $500 savings bond. Other prizes could include a bicycle and a personal computer. This new undertaking sounds very exciting and has a wonderful goal of improving reading skills in our children.

A 2003 Rules Meeting for the Latrobe Speedway will be held on January 25th at 2 pm at the Pleasant Unity Volunteer Fire Department Banquet Hall in Pleasant Unity, PA. Also, the Latrobe Speedway banquet is slated for March 15th at this location. Contact the track office for ticket information. The 2003 schedule is coming soon. A BRP Modified Tour race is tentatively scheduled for July 3rd.

News and Rumors...Congratulations to Gary Rankin on teaming up with Martha Dionise as the driver of #15 sprinter. Martha has purchased a new J & J chassis and a new Gaerte engine. She has been a car owner for as many years as I can remember and after such a bad 2002 season we wish her team the best of luck in 2003. Carl Murdick and his wife are in Florida enjoying the warm weather. Carl is feeling much better and is awaiting his February doctor visit for the release to climb back behind the wheel of his #6 modified. Murdick started his racing career back in 1960 and may be the longest career active driver currently in the Western PA area. Mark Flick is returning to dirt racing as the driver of the Lon and Pam Baker #2 modified. Flick will run Saturday nights at the Sharon Speedway and the BRP Modified Tour events. URSO Racing Supply on Rt. 8 in Glenshaw, PA will host an open house on Saturday, January 18th from 9 am to 4 pm. Over $1,000 in door prizes will be given out. Representatives from Loctite Company, Royal Purple Oil, Extreme Racewear, Miller Race Engines plus others will be on hand. There will be show specials plus huge savings on many items. ESPN II will air the Unlimited Super Stock Tractor event held at the Mercer Raceway Park on May 26th, 2002 on Thursday, February 6th, 2003 at 2:30 pm. Big Daddy's will hold their annual open house on January 25th, 2003 from 10 am to 5 pm.

Former driver and current track official Chip Wolbert would like me to thank everyone on behalf of his family for the overwhelming support recently during the death of his brother, Eric. The racing community is a great group and their thoughts and prayers will always be remembered by the Wolbert family during that difficult time.

The Race Car Mall Show dates have been set with Clarion Mall and the Cranberry Mall in Seneca, PA kicking off the season. Dates for the Clarion Mall are February 28th thru March 2nd. Cranberry Mall gets the green flag on February 27th thru March 2nd. Highlands Mall welcomes the racing community on March 13th - 15th. New in 2003 is a show at the Ross Park Mall on Rt. 19. Vicki Emig is the organizer of this inaugural show. These dates are March 20th - 23rd. Give Vicki a call to enter your car. Fifty cars are already entered which includes Jamie Smith, Gary Kriess, Keith Barbara, Jim Lepro, Rick Heim, Lynn Geisler, and Deana Barbara to name a few. The Indiana Mall ends the month with their show on March 25th - 30th. Motorsports World will provide information tables at most of the shows. Most all track schedules will be available to the fans and race teams.

Promoters Jack and Donna Lentz have announced a practice at The Challenger Raceway on Saturday, March 22nd for all divisions. The following day, March 23rd, they will hold their first special for the 2003 season. Late models, e-mods and pure stocks will be racing. Racing will take place at 3 pm each day.

Well, that will do it for this column. I will report on both the Tri-City Speedway and the Pittsburgh PA Motor Speedway banquets in Chapter 5. Also, I will share some exciting news about our Motorsports World publication for the 2003 season. News and Notes to: motorsportworld@webtv.net. Linda Fennell



Back to Racingweb
---
Chapter 3


(Sarver, PA - January 3, 2003)...Hi Race Fans. Welcome to 2003. Racing season can't get here fast enough for us and I imagine for many of you also. Dan and I attended the Racers for Tots Party on December 14th in Cuddy, PA. It was a first for us and we had a great time. Jimmy Steigerwald, his wife and all of his associates should be commended for the thankless hours of work devoted to the project. A tip of the hat to everyone who contributed or participated over the years. Standing in the large room filled almost to capacity from floor to ceiling, wall-to-wall, with toys brought me lots of emotion. I believe it was close to $50,000 in toys and monies that was presented to the Marines for their Toys for Tots Christmas Program. That type of donation should have received some TV time but it didn't. That in my book is quite a shame. Again, as part of the racing community, it seems like we can never catch a break with the local stations. I realize that Jimmy Steigerwald's project is to help the children during the holidays when giving is better than receiving, but it would have been nice to see his hard work and that room full of toys on the air. Raffle tickets are already on sale for a new Rocket chassis late model and the full size sprint. Last year's late model Rocket chassis winner was Rodney Phillips. Rick Aukland, winner of the Pittsburgher 100, pulled the winning ticket last September. Keep this Racers for Tots Program in mind for Christmas 2003. Not only will the kids be a winner, you will have been part of a great racing community project.

January is the time for many racing banquets and I will list the dates for the ones that I have received information on. Saturday, January 4th, the Geesey family and the MACS organization will honor Jack Pencil, their 2002 champion.On Saturday, January 11th, Red Miley and Motordrome Speedway will hold their banquet honoring their 2002 champions at the Palace Inn in Monroeville. Taking the honors will be Mike Bakalon-modifieds, Garry Wiltrout-late models, Marion Reno-pro-trucks, Robin Rimel-street stocks,and Curtis Stewart-chargers. Also, on that date, January 11, 2003, Tri-City Speedway honors their champions...Rod George-sprints, Josh Skarzenski-modifieds, Bobby Whitling-stocks, and Brent Rhebergen-e-mods. And, speaking of Josh Skarzenski, I would like to clarify something that I wrote in Chapter 2. Josh has completely dropped the Ray's Racing and has moved his entire operation to Erie. His business is going totally by "Lake Erie Speed Specialties". If you need to call Josh, his Erie number is 814/897-0259. On January 18th, Pittsburgh Pennsylvania Motor Speedway will hold their annual awards presentation at the Bradley House. Al Atallah-late models, Pete Loria-limited late models, Stacie White-pure stocks, Wayne Tessean-e-mods, and Bill Robertson-amateur stocks, earned the point titles.

I would like to thank everyone who e-mailed me with comments regarding this effort. It is nice to know that the readers enjoy this news. Also, thanks to drivers who share with me their plans so that I can pass the information on. Racing news this time of year is slim and I am finding out that many folks don't want to tell what is going on with their race teams. Keeping secrets seems to be the "in thing" today. I wanted you readers to know that I do my best.

Craig Perigo #1a has sold his e-mod to Doug Stine out of Hagerstown, MD. Doug plans on running Allegeny County (The Rock) Speedway. Perigo picked up a Swartz late model in Ohio and plans on running limited late model at Bedford weekly and Silver Springs when he can. Craig got his first feature win this past season at the Latrobe Speedway and we will miss seeing him in western PA in 2003. Best of luck goes out to Craig on your new racing venture.

Butch Rapp #11R is getting his Troyer chassis modified updated. Have not heard his driver announcement yet.

East Bay Raceway Park has announced their dates for events in this year's 27th Annual Winternationals: January 23, 24 and 25th - 4th Annual Ramada Inn on Tampa Bay Open Wheel Modifieds...January 29, 30, 31 and February 1, 2003 - 5th Annual King of 360's...February 3, 5 and 7 - Renegade Dirt Car Late Models...February 4, 6 and 8 UDTRA Late Models...February 12,13,14 and 15 - All Star Circuit of Champions 410 Sprints.

Don't forget the Summerville Swap Meet on Sunday, February 3rd. Fred Dinger has promoted this event for several years now and tables are being grabbed up quickly. Give Fred a call at 814/856-2803 for more information. Please let him know you read about his show in this column.

Dan Swartzlander and his dad, Dick, have purchased a brand new PRO 1 late model from Floyd Kline. Dan will also have a brand new motor for the car. He will use last year's car as a back-up. By now everyone probably knows that Jimmy Hawley will drive the Pete Grove #70 sprint car this season. Many thought that Hawley was teaming up with Eric Smith. Just an example of how tough it is to get the correct information for a column. Hawley will get a chance to do some traveling as the team's schedule will consist of 50% All Star races, 25% local and 25% open shows throughout PA and Ohio. Spanky Dougherty and crew are hard at work redoing a car from last season. The car they are reworking was in a bad wreck in 2002. His team will also have two cars. Ken Shaltenbrand has last year's car just about ready. Kenny is currently working on all new interior and body sheet metal. Randy Chronister has purchased a '99 Troyer from Dean Pearson. Randy drives the #71 modified at the area tracks. Dean Pearson will drive a Bicknell chassis modified for the first time in 2003. Scott Kay #55 has quit. He sold a car to Howard Duff who in turn sold it to Guy Griffin. Scott also sold his other car to a micro sprint driver who will compete in the big block class this season. Bill Findlay has purchased a car from Marion Reno. Limited late model driver Rich Worndorf has purchased a new Rocket chassis. Rich raced at Dog Hollow Speedway last season until a hard crash junked his ride. Brian Laraway is another driver with a new Rocket chassis and motor on order. The new motor will replace his spec motor used last season. Rumors are circulating that Alex Ferree and the Team #77 will be getting a new chassis. Not sure what brand they are getting. Dave Peterman is getting a new Warrior chassis late model.

The BRP Modified Tour announced their tentative 2003 race dates: May 25 - Tri-City Speedway, May 31 - Mercer Raceway, June 12 - Sharon Speedway, June 13 - Lernerville Speedway, July 3rd- Latrobe Speedway, August 31- Tri-City Speedway, September 6 - Mercer Raceway Park, September 13 - McKean County Raceway, September 20 - Little Valley Speedway (BRP points end), and September 27 - Eldora Speedway.

Well, that will do it for this column. Remember, the banquet trail starts in January and I will report on those outings in Chapter 4. Again, thanks for reading this column and please continue to e-mail news to motorsportworld@webtv.net. Linda Fennell



Back to Racingweb
---
Chapter 2


(Sarver, PA - December 13, 2002) Hi Race Fans. Thought I would squeeze in another column before the holidays. Dan and I reently attended the BRP Modified Tour Banquet. Ron Smoker was crowned the Tour champion. Ron and his wife, Jackie, along with his crew and their wives travelled from Syracuse, NY in a 14-passenger limo. What a sight. Fifteen of the top twenty were in attendance to receive their monies. Smoker received a check for $4,000 as champion of the 7-race BRP schedule. I spoke with Ron, who indicated the team had lots of fun last season and would again compete at the Sharon Speedway and with the BRP Modified Tour in 2003. He also earned the Sharon Speedway modified title and was Walt Wimer's Cavalcade modified champ. Smoker will start out the new season with last year's Teo chassis #62. Rex King has everything and I mean everything For Sale. Rex had a parts list of at least 20 pages listing prices. For more information call Rex at 330-889-3451 from 8 - 5 p.m. and 330-889-2765 after 5 p.m. Rex states that 2002 was his worst season in twenty years of competition. Rick Hall, owner of Big Daddy's Speed Center Inc. in Grove City, PA is planning an open house in January 2003. Call Ray at 724-458-6465 for the date. Rick is all excited about becoming a late model chassis dealer. He is working with Jim Bernheisel and will sell his Lazer late model chassis. Rick will run a 2002 Bicknell modified in the big block division and a 2003 chassis in the limited modified class this season. Jerry Schaeffer has purchased a 2003 Bicknell for his limited modified class efforts. Steve Young also is the proud new owner of a 2003 Bicknell. Rumors are circulating that Steve will move up to the big blocks in 2003. Joe Crawford has last year's car For Sale. Give Joe a call if you are interested. Joe's Mom, Wanda, is the car owner and she has purchased a new 2003 Bicknell modified for this racing season. Congratulations to Chanda Reitz for being the first woman to finish in the top twenty in the BRP Modified Tour point standings. Chanda's car owner, Darren, has also purchased a new 2003 Bicknell modified for their upcoming season.

The Mercer Raceway Park's ATPA Tractor Pull held last season at the track will be televised at 1 p.m. on December 29, 2002 on ESPN 2. Promoter Vicki Emig is working on many specials for her 2003 schedule. Nothing official has been released. Two BRP Modified Tour events should be listed. Mercer Raceway Park's opening date is Saturday, April 5th.

Congratulations to late model driver Dick Barton and his 28B crew. They will be inducted into the Chautauqua County Sports Hall of Fame on February 17th.

Also congrats to sprint drivers Gary and Shelia Rankin's daughters Jo & Bobbi on winning pageants in Columbus, OH recently.

Andy Priest will again drive the Ted & Cal Hull #41modified locally.

Walt Wimer's Cavalcade top five in the modified points were: Ron Smoker, Kevin Bolland, Alan Dellinger, Jim Weller and Tom Kristyak.

Brian Spaid, who represented the DIRT organization of New York, presented the local western PA modified drivers who supported the first ever DIRT Modified race at the Eldora Speedway with a certificate and a medallion. Drivers who received this prestigious recognition were Kevin Hoffman, Gary Rankin, Dave Murdick, Rex King, Andy Priest, Jim Racey, Ron Smoker and Kevin Bolland, Dean Pearson, Pete Simpson, Del Rougeaux, Jim Weller, Jimmy Weller III,and Josh Skarzenski. Congratulations to all.

Jeff Newton, PR of the Tour, announced that the website is updated daily. There are eight tentative dates on the BRP Modified Tour 2003 schedule. Tri City and Mercer will each have two races, Sharon's date is Thursday, June 12th, with Tony Stewart, Lernerville on June 13th, McKean County on September 13th, and Little Valley on September 20th. The BRP Board is also talking with Clinton County and Latrobe Speedways. The DIRT Modified Organization will return to the Eldora Speedway on September 27th so mark your calendars as Earl Baltes was quite impressed with the modifieds racing his track three and four wide.

Matt Reeher has sold his '96 Bicknell car and will be sporting a brand new one this season. Carl Murdick feels good and will be back in the familiar #6 starting his 43rd year of racing in 2003. Kevin Bolland has a '99 Bicknell For Sale. He will start off the season with last year's season-ending car and is looking to Josh Skarzenski of Ray's Racing Inc.to purchase a Bicknell 2003X car. Bolland had ten wins in 2002 and the Lernerville Speedway championship. The team is working on a better engine package through Bolland Machine and is looking for sponsorship. To contact Bolland Machine Shop call 724-846-1290. Team #777 plans to start off the season traveling to Charlotte, NC for the DIRT modified race in April.

Gary Wiant of Vinyl Graphics, along with McCulloughs Off Road of Lardintown, PA, is planning an East Coast Race Against Cancer on September 5, 6 and 7th, 2003. This event will benefit the American Cancer Society. The race is a R.C. car event. Competitors from five surrounding states attended last year's race. For more information, check out their website at www.mcculloughsoffroad.com.

The American Diecast Company, LLC will release a new 1/24 and 1/64 Dirt Late Model and IMCA/UMP Modified diecasts in January 2003. A Dirt Racing Fan Club is taking memberships out of Saxonburg, PA. Club President Lynn Pozzuto explained the goals of the DRFC as being to reach all of the dirt racing fans with affordable diecasts of all their favorite drivers. All DRFC members are guaranteed the opportunity to purchase any of the diecasts produced by the American Diecast Company. DRFC also offers exclusive production four times a year of special member-only cars. The first such release will be a replica of Donnie Moran's 2001 Eldora Million-winning Late Model. For more information, call Pozzuto at 1-866-LUV-DIRT or drop her an e-mail at info@DirtRacingFanClub.com.

Mason Racin' announces the new Bert Birdcage. Made of all billet aluminum and featuring Lite-Weight roller bearings already installed, no grease is required. The bearings are sealed to prevent water and dirt from entering and aid in the free, consistent movement of your rear suspension. This results in no worn axles and no liners to replace. All parts on the Bert Birdcage are replaceable and a right rear brake floater option is standard. These birdcages come standard from Bert with an anodized coating. For more information, contact Mason Racin' at 877-572-7141.

Well, that will do it for this column. After attending the Racers for Tots Party, I will share some more stories in my next column. Thanks for reading it and you can e-mail me at: motorsportworld@webtv.net. Have a Safe & Happy Holiday and we will talk to you next year. Linda Fennell.



Back to Racingweb
---
Chapter 1


(Sarver, PA - December 6, 2002) Hi Race Fans...Once again webmaster Jody Halbedl has asked me if I would write an off-season column for this site. So here goes. First off I hope everyone had a great Thanksgiving. Racing news this time of the year is few and far between. I will share a few things that I have heard recently and of course a few rumors that might keep the pot boiling while the snow flies.

Lernerville Speedway has set their 2003 opener for Friday night, March 28th. The World of Outlaws will visit the Sarver oval on Tuesday, May 20th, with a rain date of Wednesday, May 21st, and on Tuesday, July 22nd, with a rain date of July 23rd, for the Don Martin Silver Cup Memorial. The All Stars Sprints return on Friday, August 29th for the Annual Earl & David Bauman Memorial. Don't forget Lernerville's Awards Banquet will get the green flag on Saturday, March 1, 2003. For all ticket information, call the track office at (724) 353-1511.

Western Pennsylvania has another new track opening in 2003. Thunder Mountain Speedway will open this spring. The new 3/8-mile dirt facility is located one mile west of Knoxdale, PA. Owned and promoted by Audie and Tim Greer, the new track will operate Friday nights with gates opening at 4:30 and racing at 7:30 p.m. Five divisions will provide their weekly regular show including limited late models, thunder trucks, small block modifieds, super stocks, and pure stocks.

Get Well Wishes go out to Mom Bertges, Bob Cessna, and Jim Chappel. All these racing friends need our thoughts and prayers.

Walt Wimer's Cavalcade 2002 Champions were Ron Smoker - modifieds, Ed Lynch, Jr. - sprints, Dick Barton - late models, Pat McGuire - limited late models, Dave Hess, Jr. - e-mods, and Joe Kelley - stock cars.

The BRP Modified Tour will hold their awards banquet on Saturday, December 7th. Ron Smoker is this year's champion. The board members have been busy working on their 2003 schedule. Races are already planned for Mercer Raceway Park, Sharon, Lernerville, Tri City, Little Valley, and McKean County Speedways. Other possible speedways getting involved for this new season could be Latrobe and Clinton County Speedways. The tour is looking at 10 races in 2003. For tour information call (814)782-3376.

Driver and Other News Including Rumors: Gary Lyle has a new Rocket chassis late model ready to go. Lyle's plans are Lernerville Friday nights and some traveling on Saturdays....Rick Davis has purchased the #42 GRT of Todd Andrews....Tommy Beck is looking for a dirt late model to run at PPMS....Lynn Geisler will run a limited schedule in 2003. Son Travis is getting the hauler to use for his asphalt racing efforts. Rich Copeman's son has purchased Ron Delano's e-mod for his racing debut....Sprint owner Martha Dionese is looking for a driver for her #15....John Flinner has sold two of his three Johnny Johnson Rocket chassis late models. Late model driver Tom Tuite purchased one while PPMS pure stock driver Brian Scheller bought the other....Latrobe Speedway will switch to Saturday night racing in 2003....Wayne County had already inked several MACS late model shows for 2003....Chub Frank has a new Chubzille T-shirt and sweatshirt available on his website. Check them out at www.chubfrank.com if you are interested....Nick Jones and his wife, Chris, are enjoying a vacation in Hawaii....Fred Dinger's Swap Meet at the Summerville Firehall in Summerville, PA is scheduled for Groundhog Day, February 2, 2003....Also, Chris Johnson will again host the Marion Center Swap Meet in January. Complete details are not available at this writing....Mark Banal is expected to compete on a regular basis at PPMS this coming season....Fall Fest dates have been released by the Challenger Raceway. The second weekend in October is what is posted on their website. This writer was told that this is IUP Homecoming Weekend also. You might want to make your hotel reservations early. Remember you can always cancel them if you need to....Mark Flick will return to dirt racing in 2003. Flick will drive a late model Friday night on the asphalt at Motordrome and a big block modified at Sharon along with all of the BRP Modified Tour races. Car owner Darren Confer has purchased a new Bicknell Modified chassis for his driver, Chanda Reitz....Johnny Johnson has ordered several new Rockets chassis for John Flinner's 2003 season....Davey Johnson will remain in the Beitler #19....Sixteen years old Bradley Rapp will be getting his feet wet driving his dad's big block modified this coming season. Bradley has raced go-karts for three or four years and has been a champion at a track each year that he has raced.

The MACS Banquet is slated for January 4, 2003 at the Rustic Lodge in Indiana, PA. The reservation deadline for their sixth annual banquet is December 30, 2002. Tickets are $30 each. Make check payable to MACS and mail to 1397 Rossmoyne Road, Home, PA 15747. Jack Pencil will be honored as their 2002 champion.

Dave Wheeler of Wheeler Auto Parts of Somerset, PA is the new promoter of the Jennerstown Speedway.

NASCAR NEWS: Congratulations to Tony Stewart on his Winston Cup Championship. Tony will be again appearing at the Sharon Speedway with Dave Blaney for a BRP Modified Tour event tentatively on Thursday, June 12, 2003. The NASCAR Winston Cup Preview is scheduled for January 18th at the Lawrence Joel Veterans Memorial Coliseum in Winston-Salem, NC. All Winston Cup drivers are scheduled to attend. NBC and TNT officials say ratings in the second year of their NASCAR TV coverage is up 16 percent over the first. Dave Blaney will stay with the Jasper #77 Team for 2003. Blaney will be signing autographs at Motorsports 2003 in Fort Washington, PA on January 10-12th. The Budweiser Shootout in Daytona moves to a night race in February. The green flags waves at 8 p.m. on Saturday, February 8, 2003 after the ARCA 200, which starts at 4:30 p.m. Bill Simpson is back with a new company, new products and a new logo. After leaving Simpson Performance Products after the death of Dale Earnhardt, Bill has formed a new company called Impact Racing, which is located in Indianapolis, IN. He has given a lot to the sport of motor racing and now competes directly with Simpson Performance Products. Joe Gibbs Racing with drivers Tony Stewart and Bobby Labonte will change from Pontiac to Chevrolet for 2003. Pontiac has added Ricky Craven and Mike Skinner to their roster. Craven drives for PPI Motorsports, while Skinner heads into his second year with Morgan-McClure Motorsports. Michael Waltrip and Steve Park remain as DEI teammates. Ward Burton announced he is remaining with Bill Davis for at least two more years. It was sad watching the final weekly edition on RPM Tonight recently. One had to see it was coming as they were denied credentials to the tracks and had to do their interviews in parking lots and airports.

Well, that will do it for this column. Again, thank you to everyone who enjoys reading this column and to Jody who works very hard on her website. Dan and I wish everyone a Merry Christmas and we toast the New Year wishing health and happiness to all. News and notes to motorsportworld@webtv.net. Linda Fennell



Back to Racingweb
---