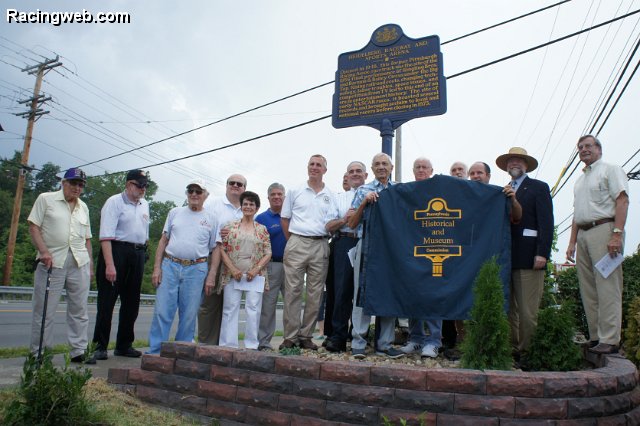 On July 15, 2012 the Pennsylvania Historical & Museum Commission and the Borough of Heidelberg held a formal dedication ceremony to unveil an official State Historical Marker commemorating the former Heidelberg Raceway and Sports Arena. The ceremony was held on July 15, 2012, 2:00 PM at the northeast corner of the former Raceway Property at the intersection of Washington Pike (Pennsylvania Route 50) and Greentree Road (between King's Restaurant and Walgreen's Pharmacy).
The ceremony included remarks from the following: Chairman of the Pennsylvania Historical and Museum Commission, Mr. Andrew Masich, US Congressman Tim Murphy, State Senator Wayne Fontana, State Representative Nick Kotik, Allegheny County Councilman Mike Finnerty, plus representatives from Heidelberg Borough and the Racing communities.
The Pittsburgh Circle Track Club had vintage race cars on display and light refreshments were served.
Some of the former competitors attending the ceremony included Joe Mihalic, former Pittsburgh Racing Association driver and NASCAR competitor at Daytona, Dick Bailey, Bobby Bentz Jr. & Sr., Bill Forney, Lynn Geisler, Gus Iacozili, Jeep Iacabucci, Augie Sandman, Deek Scott and Jim Witzberger.
The Heidelberg Raceway and Sports Arena was opened in 1948, originally constructed for horse racing by then President of Heidelberg Sports Enterprises, David J. Wright, owner at the time of Wrights Seafood Inn. The 87-acre speedway was built to be the "Country's Fastest" for auto racing having both a ½ mile asphalt track and a ¼ mile dirt track with seating for 15,000 fans. Heidelberg was also designed as an all-season outdoor sports arena.
The grounds held midget car racing, motorcycle races, thrill shows, circuses, outdoor stage shows, and sports games. Promoted by Ed Witzberger, Heidelberg Raceway a Pittsburgh Racing Association track, hosted four historic NASCAR races, including the seventh ever event in the first season of NASCAR's strictly stock series (now Sprint Cup Series).
Lee Petty, father of NASCAR's winningest driver Richard Petty, won his first NASCAR race at the track. Sara Christian finished fifth in that same 1949 race, and to this day is the highest finish by a woman driver in the top level of NASCAR racing. At the track's final NASCAR race in 1960, Lee Petty won with his son Richard Petty finishing second. There would be no other father-son 1-2 finish until Bobby Allison beat Davey Allison at the 1988 Daytona 500.
Heidelberg Raceway closed in 1973 and was immediately razed to make way for the present-day shopping center that still stands today, ironically named "Raceway Plaza".