<! --Start Left Column -->

Welcome!
Welcome to the online home of the Pittsburgh Circle Track Club. The purpose of the PCTC is to promote auto racing in the Tri-State area.

About Us - Club Info
Activities
Member Benefits
Membership Form
PCTC Points Program
Hall of Fame
Links
Photos

Officers/Board

President:
Bob McWilliams

Vice President:
Bob Neill, Jr.

Financial Secretary:
Bob Stanford

Secretary:
Jill Folkmire

Social Committee:
Cheryl Kennedy
Ginger Meloy

Board Members:
Howie Balis
Robert J. Betz, Jr.
Jack Coley
Bob Heim, Sr.
Dave Olivieri
Bob Neill, Sr.
Corey Simmons
Gregory Simmons

Contact us

PCTC Club Memberships
Jill Folkmire



PCTC Hall of Fame
2014 Inductees:
Vickie Emig
Dave Martinelli
Shawn McGarvey
Ben Miley
Jimmy Steigerwald
2013 Inductees:
Johnny Beaber
Carol Gamble
Jimmy Hawley
Dirt Henry
2012 Inductees:
Ed Ferree
Bud Garvey
Albert "Ouch" Roenigk
Dick Thomas
2011 Inductees:
Dow Carnahan
Charlie Cragan
Ed Lynch, Jr.
Bobby Marhefka
Ron Piovesan
2010 Inductees:
Dave Burt
Mark Cassella
Bill Emig
Steve Peles
2016 PCTC AWARDS BANQUET - JANUARY 21, 2017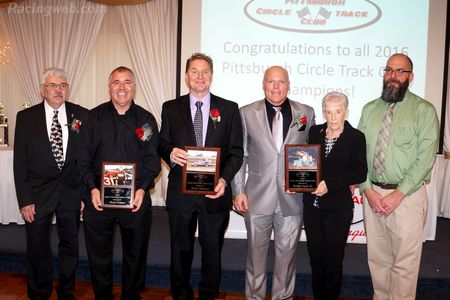 The 40th Annual Pittsburgh Circle Track Club Awards Banquet was held at the Hampton Banquet Hall in Gibsonia, PA on January 21, 2017. Congratulations to everyone that received an award at the banquet.
Congratulations to the following people that were elected into the Pittsburgh Circle Track Club Hall of Fame:
Kevin Bolland
Mark Cottone
Ralph Engle
Davey Johnson
Thank you to everyone that helped to make the banquet a success. We appreciate all of the folks that donated door prizes for the event.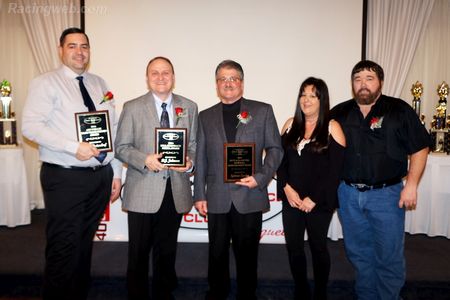 MOTORSPORTS DAY AT KENNYWOOD PARK - MAY 15, 2016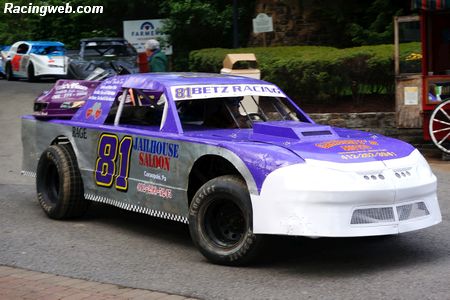 2016 Kennywood Motorsports Day Photos

The Pittsburgh Circle Track Club took part in Motorsports Day at Kennywood Park on May 15, 2016. Motorsports Day is a popular event among club members, both car owners/drivers and racing fans.

Thanks to Kennywood Park and to everyone who participated in this event! Each car entry received four passes for the day at Kennywood and four passes to be used at a later date. Such a great deal! Racing fans also saved on tickets as it was a BOGO ticket day.

PCTC DRIVER/MOVIE NIGHT - MARCH 20, 2016

The Pittsburgh Circle Track Club held a drivers/movie night on Sunday, March 20, 2016 at the Green Tree Volunteer Fire Company. Over 20 people attended the event and had an enjoyable evening.

Dave Olivieri was the emcee for the event. He spoke to several drivers, including Colton Walters, Jake Hoelle, and Craig Wetzel, about their past racing activities and 2016 plans. Bob McWilliams also talked about upcoming club activities including Kennywood Motorsports Day on May 15th and the meat raffle.

It was fun to watch the racing movies that were playing on two different screens. Everyone enjoyed sandwiches, snacks, cookies and beverages. Thanks to everyone who attended the event.

<! --Start Right Column -->

Photos

Check out our photo archive from past PCTC activities.

PCTC Text Service

Sign up for PCTC texts!

Website Info
This website is provided and maintained as a service to the PCTC by:

Imperial Heights Garage
Racingweb.com
Link to us

<! -- End Right Column -->

<! --End Main Table-->