<! --Start Left Column -->

Welcome!
Welcome to the online home of the Pittsburgh Circle Track Club. The purpose of the PCTC is to promote auto racing in the Tri-State area.

About Us - Club Info
Activities
Membership Form
Hall of Fame
Photos

Officers/Board

President:
Bob McWilliams

Vice President:
Howard Balis

Secretary:
Jill Folkmire

Treasurer:
Bob Stanford

Social Committee:
Cheryl Kennedy
Ginger Meloy

Board Members:
Bob Betz, Jr.
Joe Betz
Joe Collins
Bob Heim, Sr.
Dave Olivieri
Bob Neill, Sr.


Contact us

PCTC Club Memberships
Jill Folkmire



PCTC Hall of Fame
2017 Inductees:
Dink Colaruso
Mark Flick
Rod George
John Flinner, Jr.
Rex King
2016 Inductees:
Kevin Bolland
Mark Cottone
Ralph Engle
Davey Johnson
2015 Inductees:
2014 Inductees:
Vickie Emig
Dave Martinelli
Shawn McGarvey
Ben Miley
Jimmy Steigerwald
2013 Inductees:
Johnny Beaber
Carol Gamble
Jimmy Hawley
Dirt Henry
2012 Inductees:
Ed Ferree
Bud Garvey
Albert "Ouch" Roenigk
Dick Thomas
2011 Inductees:
Dow Carnahan
Charlie Cragan
Ed Lynch, Jr.
Bobby Marhefka
Ron Piovesan
2010 Inductees:
Dave Burt
Mark Cassella
Bill Emig
Steve Peles
2018 MOTORSPORTS DAY AT KENNYWOOD PARK - MAY 27, 2018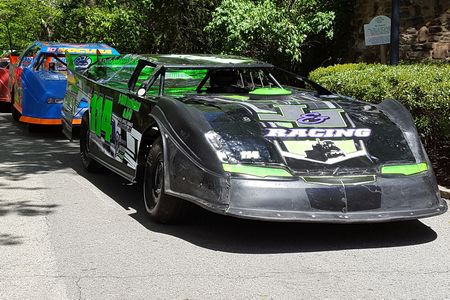 Let's get ready to rumble! One of the most popular events that the Pittsburgh Circle Track Club has every year is the annual Kennywood Park Motorsports Day! The historical amusement park opens its gates to the PCTC, race cars, drivers and crew members on Sunday, May 27, 2018. Race cars will be on display throughout the midway, culminating with a "Parade of Thunder" around the park!
Drivers interested in registering are encouraged to do so as quickly as possible, as the 20 car limit seems to go rather quickly. To be eligible to have your race car on display, you must be a current card holding member of the Pittsburgh Circle Track Club prior to May 27th. Cars must be in the parking lot by 9:00 a.m. Please note that all race cars must be cleaned prior to arriving at the park. In return for displaying your race car, the driver will receive four entries into Kennywood Park for that day and four more tickets for a later date!
If you are interested in participating in the 2018 Kennywood Park Motorsports Day, please call Bob McWilliams at 412-921-2553 or Howie Balis at 724-366-9998 to register and verify that you are a current card holding member prior to May 27th. This year's event has been pushed back to a later date in May due to the inclement weather earler in the month.
The Pittsburgh Circle Track Club is looking forward to spending this special day with all of our club members. See you there!
2018 PCTC CLUB NIGHTS
PCTC Club Nights scheduled as of May 1, 2018:
June 15 - Dog Hollow Speedway
July 7 - Pittsburgh's PA Motor Speedway
July 14 - Jennerstown Speedway
July 27 - Lernerville Speedway (Must RSVP one week before date)
August 4 - Midvale Speedway
The club is still working out dates with: Eriez Speedway, Hummingbird Speedway, Roaring Knob Speedway, Thunder Mountain Speedway, Sharon Speedway.
All club members must show their PCTC membership card for entry to the track on club nights. Once additional dates are confirmed, they will be announced on the club's Facebook Page.
2018 PCTC POINTS PROGRAM
The 2017 season saw over 110 drivers compete in the Pittsburgh Circle Track Club Points Program. For the 2018 season club points will begin on May 1, 2018 and run through September 16, 2018. As in past years, the club will score your top 12 finishes during the above mentioned time frame. If you race more than once a week, you can only choose one finish to your total points for that week. Points will be scored 10 points for 1st through 1 point for 10th with a maximum of 120 points for the year. You must be a current PCTC member prior to the start of the points program. If you join the after the points begin, your points will be scored from that date. Once the clubs establishes a list of drivers in each division, it's the driver's or team representative's responsibility to make sure that they submit their point totals to the club by the end of each month so we can verify your point totals and the tracks where you have raced. A list will be available on our Facebook page and in the club's newsletter.
The 2018 season should be exciting as well as interesting as we have had tracks shutting down, drivers changing divisions and even had drivers change surfaces they race on. The PCTC would like to thank all of the drivers and the crews who supported our drivers point program in 2017. The club is looking forward to another great season, if you have any questions you can message the club through our Facebook page, or you can contact Dave Olivieri at daveolivieri@comcast.net.
2018 PCTC RACING RAFFLE - GREAT WAY TO SUPPORT PCTC CLUB
Drawing to be held on October 6, 2018 during the Pittsburgher 100 weekend. Special thanks to Precise Racing Products.
1st Prize - $1,000 Gift Card to Precise Racing Products
2nd Prize - Oakley Racing Shoes ($170 value)
3rd Prize - Red Oakley Racing Gloves ($135 value)
4th Prize - 4 Pack 5 Gallon Sunoco Race Jugs ($120 value)
5th Prize - Molecule Suit Cleaning Kit ($70 value)
$5 per ticket and winners will be notified on the PCTC Facebook page. Tickets will be available for sale during club nights, or by seeing a club officer or board member. You may also purchase tickets by mail by sending a check for the dollar amount of the tickets that you want to purchase to: Pittsburgh Circle Track Club c/o Dave Olivieri, 203 Olde Ingomar Court, Pittsburgh, PA 15237 or you can contact Dave at 412-720-9326.
2017 PCTC ANNUAL AWARDS BANQUET - JANUARY 20, 2018
The 41st Annual Pittsburgh Circle Track Club Awards Banquet was held at the Hampton Banquet Hall in Gibsonia, PA on January 20, 2018. Congratulations to everyone that received an award at the banquet.
Congratulations to the following people that were inducted into the Pittsburgh Circle Track Club Hall of Fame:
Dink Colaruso
Mark Flick
John Flinner, Jr.
Rod George
Rex King
Special awards were given to the following people:
Pete Todich - Bill Steinbach Memorial Media Award
Tim Thoma - Glade & Ruth Neil Memorial Sportsmanship Award
Shaun Hooks - Art Smillie Race Track Person of the Year Award
Ed Miller - Dave Bert Good Guy Award
Thank you to everyone that helped to make the banquet a success. We appreciate all of the folks that donated door prizes for the event.

<! --Start Right Column -->

Newsletter

Check out the latest PCTC newsletter:

Photos

Check out our photo archive from past PCTC activities.

Website Info
This website is provided and maintained as a service to the PCTC by:

Imperial Heights Garage
Racingweb.com
Link to us

<! -- End Right Column -->

<! --End Main Table-->