Danny Burns
Rest in Peace, Friend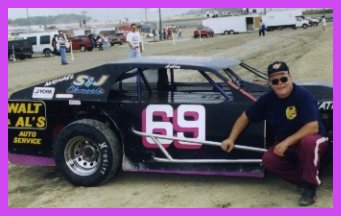 August 15, 1947 - June 3, 2000

The auto racing community has lost a great friend. Some of Danny's racing friends have known him since the days when he raced at the Clinton, Heidelberg and North Hills racetracks many years ago. Danny raced well on the figure eight racetracks. Some folks have known Danny since he raced at PPMS and other local tracks in more recent years. Others knew Danny simply as the modified racer in the purple #69 racecar. Whatever the nature of your relationship with Danny, we all feel the impact of his passing. No longer being able to race with him, hear his colorful stories and jokes or, as one racer mentioned online, see his smiling face at the track.

A lot of racing folks came to the funeral home and to the funeral services to pay their respects, express their sympathy, and show their support for his family and close friends. Many wore purple, including the pall bearers who put on purple racing jackets for the motor procession to the cemetary and those who wore ties with a purple embroidered "69". The long, winding procession to the cemetary was a little unique, as it was led by a PAT bus, tow trucks, the PPMS pace truck, and race cars.

Some of us who were there talked about how the funeral turned out to be exactly as Danny would have wanted it. Except that he would have wanted to be there. But he was there...and will remain...in our memories and hearts.

As we deal with the sadness of Danny's passing, we have been reminiscing and sharing our favorite memories of Danny. And I hope that these memories bring you comfort and strength.

Rest in peace, Danny.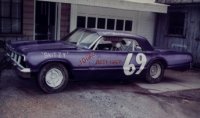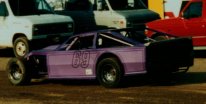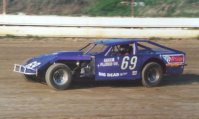 Photo credits: The large photo was from a calendar that Danny gave us. We pulled the first and second small photos from our racing photo albums. The last small action photo is a PPMS/Bill Truby track photo sent to us by Judy Gower.

If you would like to add anything to this memorial page, please let us know.

Back to Racingweb.