Greg Wilson Wins All Star Circuit of Champions Sprint Race
at Pittsburgh's PA Motor Speedway on June 6, 2015.
Greg Wilson Dominant at PPMS Saturday, June 6th
Greg Wilson was in the process of taming the field at the Monster Half Mile, but a lap 18 caution erased his eight-second advantage. The yellow may have allowed Wilson's fellow competitors to catch up, but it certainly didn't dash his hopes for victory.
Wilson pulled away once again on the restart and finished off his dominating performance picking up the All Star Circuit of Champions feature in front of a packed house at Pittsburgh's Pennsylvania Motor Speedway Saturday night.
It was the 23rd career win with the ASCoC for Wilson, a two-time points champion with the series. The Benton Ridge, OH resident took the lead from outside pole sitter Dale Blaney on lap seven and used the bottom groove of the speedway to check out on the field.
Once Wilson was standing beside his W20 sprinter in the victory lane the emotions started flowing.
"You get crabby when you don't win, but this right here is why we do it," Wilson said to ASCoC announcer Blake Anderson in victory lane. "I want to thank (PPMS) for having us. This is a fine race track.
"I also want to thank the fans for coming out. I appreciate them spending their hard-earned money to watch us put on a show and I hope they enjoyed it."

Complete PPMS Results for 06/06/15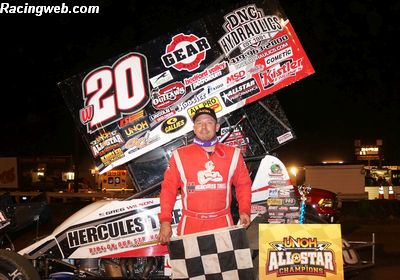 Greg Wilson in victory lane at PPMS June 6, 2015.
---