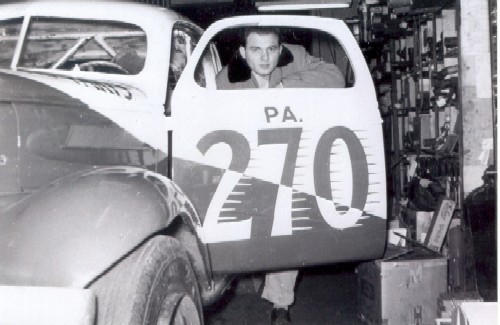 Joe Borandi
Joe Borandi was born in 1927 and for seventy years he had racing in his blood until his death in 1997. His widow Emma currently lives in Plum Boro, Pa. Emma gave all of her husband's racing memorabilia to nephew, James Gazdacko from Fort Pierce Florida, which he shared with Don Gamble.
In 1949 he built his first car, a 1935 Chevy sedan. Bobby Dietrich was the driver in 1950. Bobby drove the car for a year and a half and Jerry Maier drove the 270 for the remainder of 1952.
Joe built a new car for Ed Fiola in 1953 and the team broke all the records. Fiola won twenty six feature events. The team was the NASCAR PA Point Champion and finished sixth in the National Point Standings. That year Joe's car won track championships at Latrobe, Claridge, Arden Downs, and Turnpike Speedways.
The team received an invitation from Bill France Sr. to race at Daytona Beach in 1954 but mechanical problems spoiled the trip. In 1954 Joe had three different drivers, Jim Coleman, Irv Leach, and Dick Bailey. During the 1955 season the team was leading in the points for most of the season with Gus Linder as the driver. Linder had two serious roll overs, and destroyed two cars which cost them the championship. In 1956 Borandi was having a fair season when Linder flipped again and was injured and Joe decided to retire as a car owner.
Tracks where the team competed included Arden Downs, Blanket Hill, Butler, Canfield, Claridge, Debo Park, Ford City, Heidelberg, Langhorne, Latrobe, Mon-Duke, New Kensington, South Park, Spring Church, and Turnpike Speedway. Several of Borandi's drivers, Fiola, Bailey, and Linder are in the Pittsburgh Circle Track Club Hall of Fame.
Special thanks to Jim Gazdacko for all his help with the information on Joe Borandi.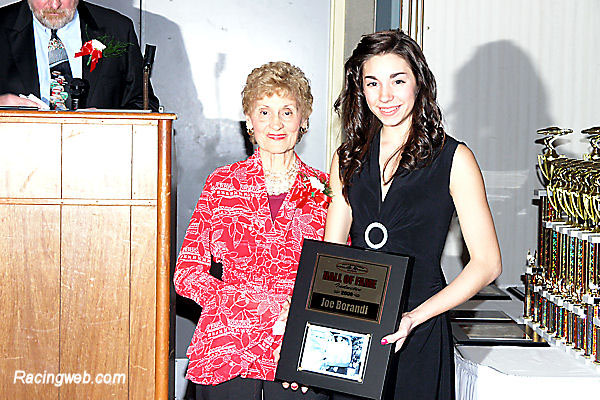 Joe Borandi's Wife Emma