Dick Curry's jobs in racing included: crew member, car owner, driver, and cheerleader for his son's team. Dick's grandfather was vice president of Heidelberg Raceway and took Dick to the track every Thursday night. In 1964 he built his first race car and ran the entire season in the Claiming Division. He was crowned Late Model Rookie of the Year for 1967 in the Pittsburgh Racing Association.
The PRA's creation of the Mini-Stock Division captured Dick's attention and he finished second in points in their only season. Curry won multiple events in that division at the Memorial Stadium in Daytona Beach, Virginia Raceway (State Championship), Marion Center Speedway (won eight out of ten), Canfield Speedway (three wins in a row), Islip Speedway, North Hills Raceway and Lincoln Speedway where he finished third in points in the NASCAR Mini-stock division in 1972. The car was nicknamed "Mighty Mouse".
Some of the other speedways where he competed were Blanket Hill, Carlisle, Challenger, Greater Pittsburgh, Green Valley, Hummingbird, Hagerstown, Heidelberg, Islip, Jennerstown, Latrobe, Lernerville, Mansfield, Pittsburgh, Richmond VA, Saluda VA, South Park and St. Clairsville. At several of these tracks he competed in the Pittsburgh Circle Track Club Senior Series.
He enjoys attending NASCAR races and traveling around the country in his RV with his family. His most memorable moment in racing was winning the 1973 World Series of Mini Stocks Championship in Florida. The most embarrassing moment came in 1971 after winning the grand finale at Daytona Memorial Stadium only to be disqualified. He can relate to some of the NASCAR teams today that are having issues with the rules.
People often refer to him as "Mr. NASCAR". The nickname is appropriate because he knows more about that form of racing than anyone in the Tri-State area. In the mid-70s he started following the NASCAR circuit and in 1987 Dick joined the Rappin' and Racin' crew as the NASCAR reporter.
He wrote the auto racing column in the Pittsburgh Press for two years. Besides Daytona he covers the races at Michigan, Bristol, Richmond, Dover, Atlanta, Phoenix, Martinsville, Lowe's, and Darlington and continues with reports on all series progress. 2007 was Curry's 20th year covering all the NASCAR events and the ARCA/Remax Series.
Curry was the regular co-host on all the broadcasts of Rappin' on Racin' that were done for sixteen years from the STP Building in the pits at Daytona International Speedway. Larry McReynold's first ever radio interview was with Curry when Larry was the crew chief for Dale Earnhardt, Sr. McReynolds told Curry that he was interested in getting into broadcasting when he retired from being a crew chief and would like to be on the radio show.
Dick Curry was hired by Ketchum Advertising in Pittsburgh to work with their clients and do training sessions and mock interviews. We worked with Hut Strickland, Jimmy Spencer, Doug Richert, and Buckshot Jones.
His contributions to auto racing through his media experiences have become a very important part of local racing history.
Curry heard from a driver that ran in the mini stocks at a speedway in Ohio that Curry would clean house. Dick went to the track; set fast time, won the heat and won the feature. When he showed up the next week he heard them call his class and pulled the car to the line up area. There was nobody else there so he thought he misheard the announcement. Then the promoter came over and told him that the other drivers refused to run with him so he was paying Dick the winner's purse and permanently eliminating the class.
When leading a race on the 1/2 mile dirt at Virginia Raceway in Saluda, Virginia the yellow came out and he passed his brother's car which was on fire. His brother jumped out of the car and waved to Dick to tell him he was okay. After the race, his brother said, "I got out of there real fast so I could let you know I was okay." Dick said "I was LEADING the race....you didn't think I was going to STOP, did you?"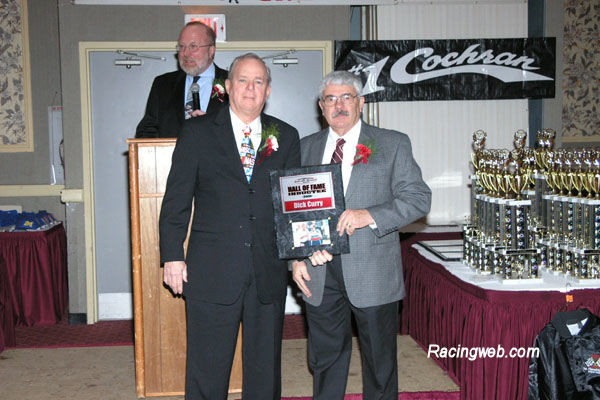 2007 Hall of Fame Inductee Dick Curry and PCTC President Bob McWilliams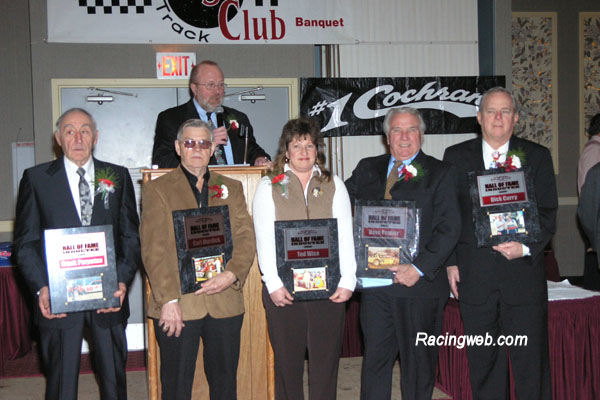 2007 Hall of Fame Inductees Frank Perpetua, Carl Murdick, Ted Wise (daughter), Dave Pegher, and Dick Curry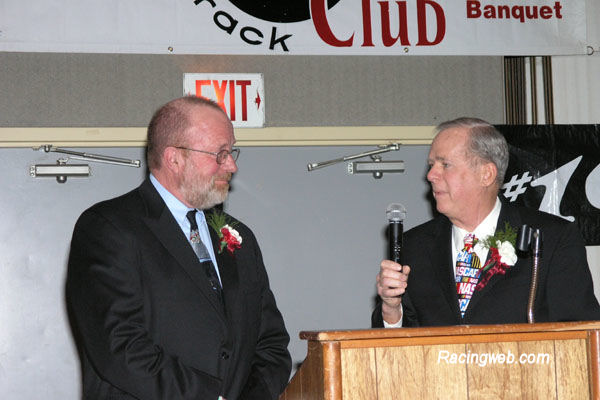 PCTC Board Member Don Gamble and Hall of Fame Inductee Dick Curry