Ed Lynch, the "original" Apollo Rocket, started his driving career in the late 50s/early 60s. By the mid-60s, he was a top runner on the old Penn-Western racing circuit at such tracks as Jennerstown and Windber, winning many races with his candy apple red #6. From there it was a quick jump to the western PA Sprint Car circuit.
Despite taking on PCTC Hall of Fame members such as Lou Blaney, Ralph Quarterson, Gus Linder, and other top runners such as Buddy Cochran and Ted Wise, Lynch won his share in the Sprint Cars, scoring 27 wins at tracks such as Tri-City (15), Lernerville (8), Sharon and Pittsburgh. However, as good as he was in Sprint Cars, it was in the Modifieds that the Apollo driver really put up big winning numbers.
During his years in the famed DeGeronomo Bros #88 Gremlin bodied Modified, Lynch was at the top of his game and won 113 races, third tops overall in the modern era to Hall of Fame members Blaney and Blackie Watt. During his years in the Modifieds, Lynch won at nine different racetracks including Lernerville, Tri-City, Sharon, Mercer, Schmucker's (Latrobe), Motordrome, Jennerstown, Pittsburgh and Expo. For many years, he did double duty, driving both a Sprint Car and Modified. A work related back injury caused Lynch to finally hang up the helmet, but he continues to be very involved with the sport as car owner for son Ed, Jr., the all time top sprint Car winner at Lernerville.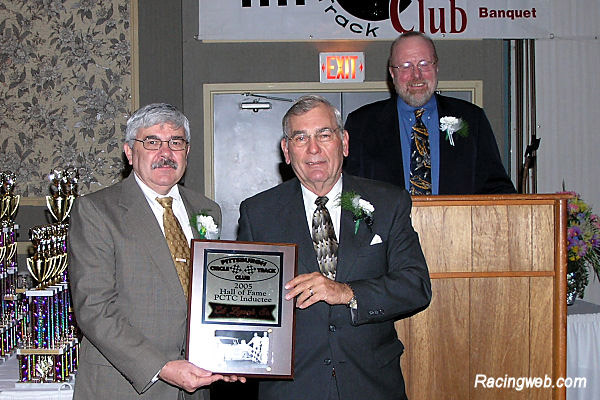 PCTC President Bob McWilliams and Ed Lynch, Sr.