Carl Murdick began racing in 1960 and completed his 48th racing season in 2007. All of these seasons he has been driver, owner, and mechanic. He started in the Hardtop division which evolved into the Coupes, and later in the Modifieds. He has raced Late Models and Semi-lates that he has owned and has driven Pure Stocks and 6 Cylinder Modifieds. In 1970, he won the point championship at Lernerville in the Coupes, while also competing it the Late Models. He has always been very consistent thus earning the nickname of "Mr. Consistency'' for many years. He rarely finished out of the top ten in points and for many years was in two divisions at multiple tracks. For years he raced 3 or 4 and sometimes 5 times a week. Since Lernerville opened, Carl has only missed a handful of nights.
Tracks where Carl competed…in Pennsylvania...Blanket Hill, Butler, Central PA Speedway, Challenger, Clearfield, Green Valley, Hickory, Indiana Fairgrounds, Hummingbird, Jennerstown, Latrobe, Lernerville, Meadville Fairgrounds, Marion Center, Mercer, Mon-Duke, Motordrome, Nazareth Mile, North Hills, Pine Valley, Reading, Ruffsdale, Sportsman's Speedway, Stateline, Thunder in the Mountain, Tri-City, Warren Sports Speedway, Windber OP
In Ohio...Attica, Buckeye, Eldora, Expo Speedway, Ace High/Raceway 7, Schmucker's, Sharon, St. Clairsville, Wayne County. In New York...Hamburg, Little Valley Speedway, Middletown, Ransomville…In West Virginia...Pennsboro, Tyler County, Wheeling Creek…Other Speedways...Hagerstown, MD, Flemington, NJ, Merrittsville Speedway, Canada
Championships and victories in special events include the 1970 Championship at Lernerville in the Modifieds. The 1984 & 1986 Modified Championship in the Pittsburgh Circle Track Club,
1974 was a good year with wins at Sportsman Speedway…in the Late Model Memorial Day Race, Mid-Season Championship Race…in 1975 the Late Model Mid-Season Championship Race and the Memorial Day Special
He received the Sportsmanship award from Auto Racing Club of Hagerstown.
His efforts in the Coupes at Sportsman in 1975 were very successful with wins in the Mid-Season Championship Race, the 4th of July, and Memorial Specials. 1977 another big win at Sportsman's plus the big win in 1979 with the Modified on Labor Day at Tri-City.
1992 Lernerville Speedway Milestone in Racing Award. In recognition of a quarter century of competitive driving in the coupe/modified diving 1968-1992
2002 Mercer Raceway Park Outstanding Achievement Award. For finishing in the top ten in the modified points for 13 consecutive seasons 1989-2002
2003 Lernerville Speedway Appreciation Award. For participation, support, and spirit of camaraderie at Lernerville for the past 35 years.
2005 Tri-City Speedway Lifetime Achievement Award. Five decades of the love and dedication to racing in western Pennsylvania.
In 1998 Carl took his car to Syracuse for his son Dave to race. That year he got to meet Smokey Yunick. And Richard Petty. Carl raced against Bill Elliott, Neil Bonnett, Bobby Allison, Tony Stewart, and Dave Blaney.
Carl ran the late model for nine years and has run in the coupe/modified division for 48 years. 2008 will be his 49th year.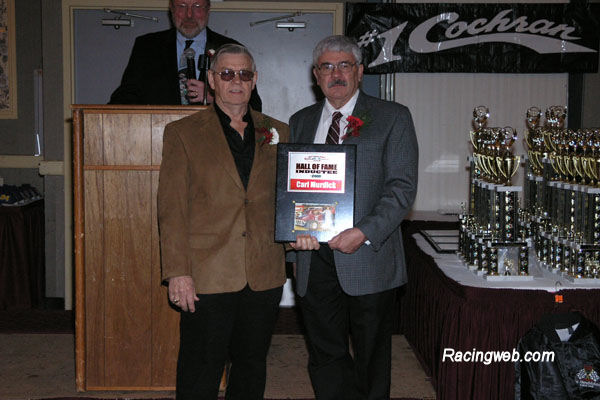 Carl Murdick and Bob McWilliams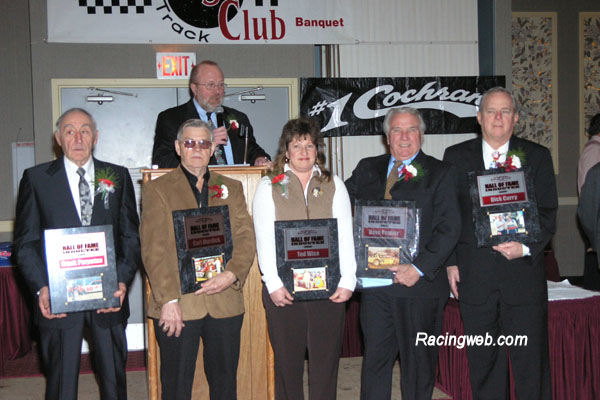 2007 Hall of Fame Inductees Frank Perpetua, Carl Murdick, Ted Wise (daughter), Dave Pegher, and Dick Curry