Dave Pegher of Wexford was one of the biggest winners of all time in the old Semi-late model division. Driving for the legendary Auction Barn team owned by Bill "Pappy" Kessler in the 1970s, Dave Pegher was the class of the field for quite a few years. Lernerville, North Hills, Tri-City, Motordrome 70, Mercer, it mattered little which track, if Pegher and the yellow #09 was in the field, he was the driver to beat in the Semi-lates. At Lernerville he won three straight Semi-late titles 1974-76 in the Auction Barn cars and also was a track champ at North Hills. Records are incomplete, but few drivers in the Semi-lates and Limited Late Models won more during their career than Pegher.
Tracks where Dave competed included: Ace High, Bedford, Blanket Hill, Greater Pittsburgh, Green Valley, Hesston, Hummingbird, Latrobe, Lernerville, Mercer, Motordrome, North Hills, Pittsburgh, Raceway 7, Schmucker's, Sportsman's Speedway, and Tri-City.
He won championships at and special events at Green Valley, Hesston, Lernerville, Mercer, Motordrome, North Hills, and Pittsburgh. In addition to Kessler Dave drove for Ralph Engle, Glenn Hinkle, and Bill Kessler, Jr.
One of the best nights of his career was the night he won the heat and feature for Pappy and came back to win the heat and feature in Bill Kessler Jr's modified.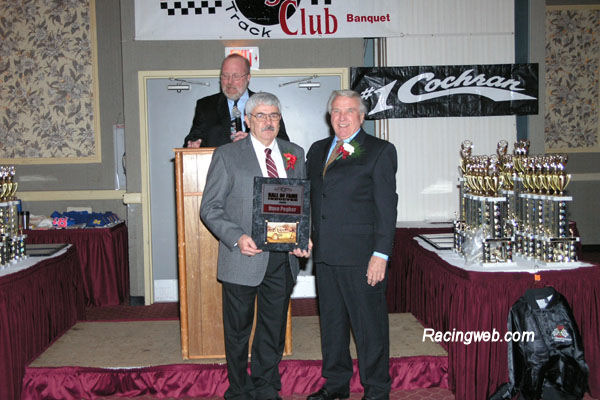 Bob McWilliams and Dave Pegher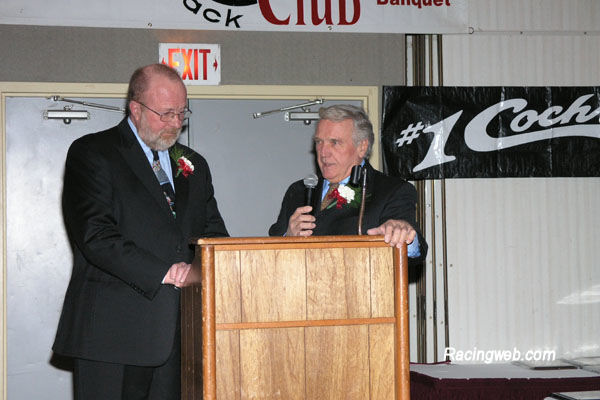 Don Gamble and Dave Pegher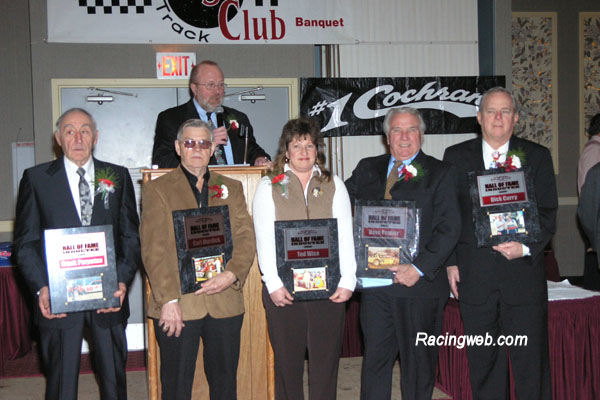 2007 Hall of Fame Inductees Frank Perpetua, Carl Murdick, Ted Wise (daughter), Dave Pegher, and Dick Curry