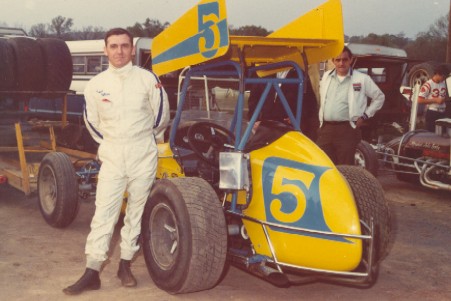 Ted Wise
Kathy Lesnak and her husband Jerry accepted the award for her father Ted Wise.
Ted Wise of Hubbard, Ohio began his career in the 1948 in a Jalopy that he raced in a corn field. He then moved to the old coupes. He evolved from the early flathead Ford coupes, to the "Super-Modifieds" and Sprint Cars. Wise was a top runner and winner in five decades from the 1940s into the early 1980s. He raced at just about every track on either side of the PA-Ohio border and as far away as Knoxville, Iowa, where he finished third in the famed Knoxville Nationals in 1974 behind Dick Gaines and the legendary Jan Opperman.
Some of the tracks where Ted competed included: Ashtabula, Bedford, Blanket Hill, Butler, Canfield, Cloverleaf, Cortland Ohio, Eldora, Expo, Hagerstown, Heidelberg, Indiana State Fairgrounds, Jefferson Ohio, Jennerstown, Knoxville, Langhorne, Lernerville, Manzanita, Mercer, Morgantown, Port Royal, Selinsgrove, Sharon, Sportsman Park, Trenton, Tri-City,
Much of Wise's early racing was done at the Sharon Speedway. His first win there in a Modified coupe came in 1955 and he capped off the season as the 1955 track champion. Wise was one of the first in our area to try a wing on the top of his Sprint Car. Ted is best remembered as a long time driver of the Jim McMillin #5 sprint cars. He won the 1976 Lernerville track title and over 30 races for McMillin. Some of his other car owners included: Joe Conroy, Olly Feverstein, B. Taub, J. Wheaton, Bud Miller, Gene Renz, Mike Garcia, and the King Brothers.
Early in his career he drove the Ralph Quarterson, Sr. owned #66 Modified coupe. After his Sprint career ended he ran big block Modifieds for the King Bros. winning races at Expo in 1980-81 and becoming a winner in four different decades. Records are not available to count the number of races Ted Wise won, but it is believed to be in the hundreds. From 1968 until he quit racing Sprint Cars, he won 45 races at local tracks including Lernerville, Tri-City, Jennerstown, Morgantown and Mercer.
In 1952 Ted was fourth in the points with NASCAR. In 1974 he was the oldest driver in the Knoxville Nationals where he ran second in the heat and the feature. In 1994 Ted represented the National Sprint Car Hall of Fame at the Sharon Speedway. Ted passed away on September 18, 2006 at age 73.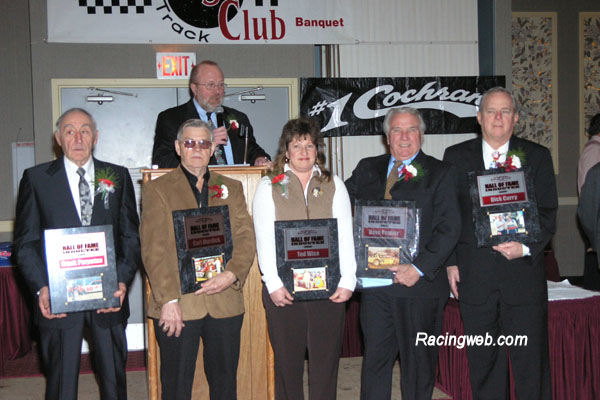 2007 Hall of Fame Inductees
Frank Perpetua, Carl Murdick, Ted Wise (Daughter Kathy Lesnak), Dave Pegher, and Dick Curry