The PCTC Annual Old Timers Dinner was held at Eracer's Go Kart Park Banquet Hall in Butler, PA on Saturday, November 10, 2007. The evening's festivities began at 5:00 p.m. and continued until 10:00 p.m. The club provided the main course for the meal and drinks. Guests attending the event brought covered dishes and desserts. We had a capacity crowd of guests on hand to enjoy the camaraderie and the extensive collection of racing memorabilia from Dave Burt.
A special thank you to the club members for all their hard work and a thank you to all the great people that participated. [ More Info ]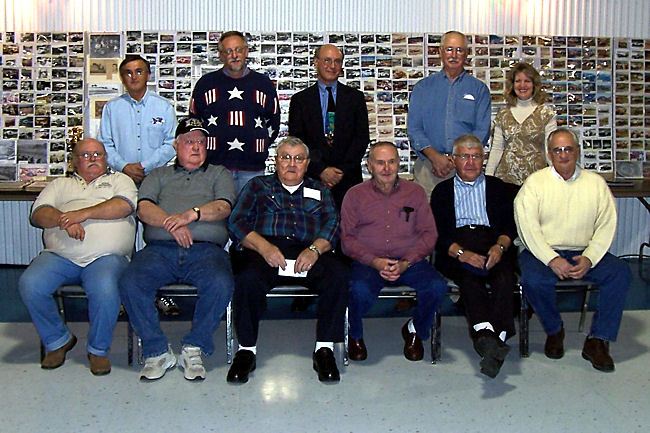 Front Row - Dave Gleis, Carol Halbedl, Don Dahle, Bill Wheeling, West Reed, Gus Scholich
Back Row - Ralph Spithaler, Dave Rupp, John Stickley, Bill Ruffner, Miss North Hills Raceway Stacey Scholich
Click on each photo below to see larger version
| | |
| --- | --- |
| OldTimers1-07.jpg | OldTimers4-07.jpg |
| OldTimers5-07.jpg | OldTimers6-07.jpg |
| PCTCNov10-2007.jpg | PCTCNov10-2007(2... |
| PCTCNov10-2007(3... | PCTCNov10-2007(4... |
If you missed the event and would like to be involved next year, please e-mail Don Gamble at speedwayproductions@comcast.net to be added to the mailing list.
The former competitors and media in attendance included:
Jim Balentine
Milford Barber
Ralph Batykefer
Don Brandt
Jack Coley
Don Dahle
Val Dominick
Bud Garvey
Lynn Geisler
John Haefner
Carol Halbedl
Estle Harp
Harry Hein
Mike Kemple
Chuck Kennedy
Dave Kohler
Bill Korch
Gus Linder
Barry Lucas
Don Luffy
Dave Lundy
Andy Lutz
Ed & Jean Lynch
Russ Matchett
Larry Matter
Bill McCracken
Bob McWilliams
Mike Meerdo
Dave Meloy
Dave Mohn
Jerry O'Rock
Art Osmer
George Pescho
West Reed
Bill Ruffner Jr.
Dave Rupp
Smokey Schempp
Deek Scott
Herb Scott
Jim Senkewitz
Gus Sholich
Ralph Spithaler
John Stasiak
John Stickley
Al Stivenson
Darwin Stivenson
Frank Vasko
Bill Wheeling
Walt Wimer
Miles Witchey
The guests that attended to enjoy visiting with their former heroes were too many to list. We know they had a great time.