Imperial Heights
Need Parts?





Automotive services and racing chassis, parts and supplies dealer.


Racing Photos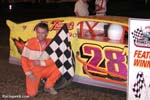 Contact Us

Columns
Racingweb.com is pleased to bring you racing columns from a variety of folks. We appreciate the time, efforts, and writing of our columnists. Enjoy their columns of racing news, information, commentary, and photos. Any opinions expressed by our writers are, of course, their viewpoints, not those of Racingweb.com or Imperial Heights Garage.

Are you interested in contributing a column to Racingweb.com? If so, please contact us.