<! --Start Left Column -->

2014 PCTC Banquet - Saturday, January 24, 2015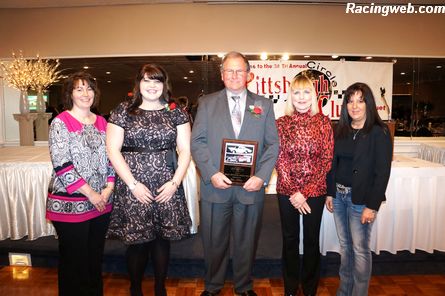 The 2014 Pittsburgh Circle Track Club Awards Banquet was held at the Hampton Banquet Hall on Saturday, January 24, 2015.
Congratulations to the new inductees into the Pittsburgh Circle Track Club Hall of Fame:
Vicki Emig
Dave Martinelli
Shawn "Sheetz" McGarvey
Ben Miley
Jimmy Steigerwald.
Several individuals received special PCTC Club awards.
Glade & Ruth Neil Memorial Sportsmanship Award - Bob Bentz, Jr.
Bill Steinbach Memorial Media Award - Tripp Clarke & Tom Lang
Art Smillie Award - Peggy & Loren Kesler
Dave Burt Good Guy Award - Bill Beck
Congratulations to everyone that received an award at the banquet. Thank you to the PCTC members that contributed their time and effort to make the banquet a success.
PCTC MEETING & ELECTIONS
PCTC Meeting and Elections - There will be a PCTC meeting on Sunday, January 11, 2015 at 7:00 p.m. at the Green Tree Volunteer Fire Hall. The fire hall is located at 825 Poplar Street, Pittsburgh, PA 15220. If you would like to nominate a member for the elections, please contact Jill Folkmire at
412-937-0706 in order to have your name placed on the ballot.
Election of Club Officers for 2015
Purchase tickets for the January 24, 2015 Banquet to be held at the Hampton Banuet Hall in Gibsonia, PA
Discuss the schedule of PCTC events for the upcoming year
2015 Memberships
2012 Heidelberg Raceway Historical Marker Dedication

<! --Start Right Column -->

PCTC Hall of Fame

2014 Inductees:
Vickie Emig
Dave Martinelli
Shawn McGarvey
Ben Miley
Jimmy Steigerwald

2013 Inductees:
Johnny Beaber
Carol Gamble
Jimmy Hawley
Dirt Henry

2012 Inductees:
Ed Ferree
Bud Garvey
Albert "Ouch" Roenigk
Dick Thomas

2011 Inductees:
Dow Carnahan
Charlie Cragan
Ed Lynch, Jr.
Bobby Marhefka
Ron Piovesan

2010 Inductees:
Dave Burt
Mark Cassella
Bill Emig
Steve Peles

Photos

Check out our photos from past PCTC activities.

<! -- End Right Column -->

<! --End Main Table-->